Everyone's Game - Diversity, Inclusion, and Equity Strategy
---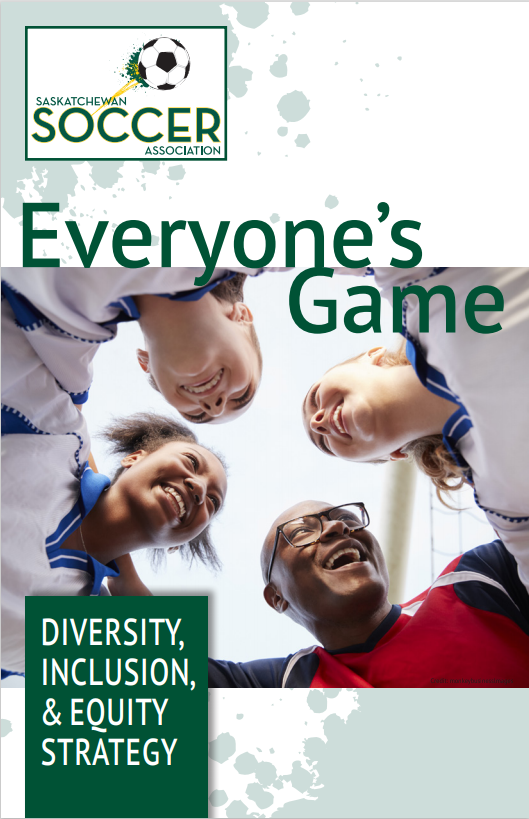 In 2020, we asked for leaders in the soccer community to come forward and assist in developing inclusive strategies that will have a long-term impact.
Our members responded and stepped up to give their voice to the design and implementation of our Diversity, Inclusion and Equity Strategy. SSA is proud to present Everyone's Game, a strategy where diversity, inclusion, and equity are ingrained as fundamental values within our organization. We encourage all our members to review
Everyone's Game Strategy and Brochure
to spark ideas for strategies within your own organizations. We are committed to implementing strategies both at provincial level and by working with member organizations.
Everyone's Game Community - Has your Organization Joined the Movement?!
We are very pleased to be able to tell you about an exciting new Community we are launching across the province that will play a role in:
growing membership, volunteers, and public support,
give us a chance to listen, learn, engage with one another, and
will have the potential to increase sponsorship opportunities and bring in stronger mix of skills for soccer teams!
SSA's new Diversity, Inclusion and Equity Strategy Everyone's Game, launched at the SSA Annual General Meeting, ensures that individuals from diverse cultures, abilities, genders, and gender identities have a voice and accessibility to participate in soccer as players, coaches, board members, volunteers, officials, etc.
We are calling on our members to make the commitment to support Everyone's Game. Complete the form below to be apart of Everyone's Game Community Group. The group consist of member organizations representatives who are taking action and joining the movement. This will be a safe place for organizations to share experiences, build together, celebrate successes, and learn from one another. It will include quarterly meetings to allow for open discussions, free workshops, and resource sharing.